✍️  Divyansh Kumar
🗓️ Sept 13, 2023
India vs Pakistan Asia Cup 2023: Virat Kohli reaches historic 13,000 runs in ODIs with 47th hundred
Virat Kohli, or "King Kohli",  the name that resonates with cricket enthusiasts around the globe, has been a symbol of excellence and a source of immense pride for Indian fans during Ind vs Paki Asia Cup 2023. This modern-day cricketing legend has consistently delivered exceptional performances, reaffirming his status as one of the finest batsmen in the world.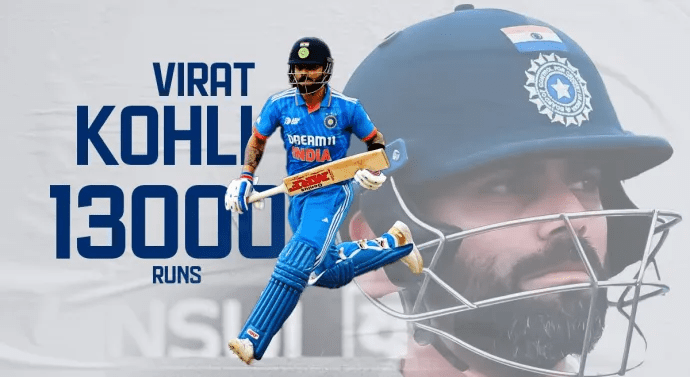 New Milestone Crushed!
Kohli's impact was most significant during the India vs Pakistan Asia Cup 2023, where he became the fastest cricketer to reach 13,000 runs in ODIs. This record-breaking achievement underscored his consistency and ability to set new milestones continually.
In a truly remarkable feat, the 34-year-old cricketing maestro Virat Kohli has not only etched his name in the hall of fame of ODI cricket history but has also surpassed the legendary Sachin Tendulkar's record.
Kohli achieved this extraordinary milestone with lightning speed, taking just 277 innings to reach it, thus outpacing Tendulkar's previous record of accomplishing the same feat in 321 innings. The moment of glory came with a brilliantly executed double off the bowling of Shaheen Afridi.
Win Over Rivals Sweetens the Deal 
To add icing to the cake, Kohli scored a magnificent century in the exact match, marking his 47th century in the ODIs, further solidifying his status as one of the greatest batsmen of the modern era. What makes this century even more remarkable is the venue where Kohli achieved this feat.
Remarkably, all four of Kohli's centuries at this particular stadium have come against Sri Lanka, with two being scored in 2017 and one in 2012. Kohli's masterful innings, complemented by KL Rahul's impressive century, propelled the Indian cricket team to a commanding total of 356/2 during the reserve day of the match, underlining their exceptional batting prowess and dominance.
India won the match by 228 runs with a masterful spell by Kuldeep Yadav to put the cherry on the top after Virat and Rahul's centuries.
Show of Team Strength
His centuries in crucial matches were pivotal for India's success. In the high-pressure encounter against arch-rivals Pakistan, Kohli's masterful century played a vital role in securing victory for India. This knock showcased his ability to thrive in challenging conditions.
Rohit and Shubhman Gill had given India a great start with an opening partnership of over 100 runs. Unfortunately, both batsmen lost their wickets to the Pakistani bowlers cheaply with loose shots played.
Furthermore, his partnership with KL Rahul in the Super 4 match against Pakistan demonstrated his teamwork and ability to anchor innings effectively. Their combined efforts led India to a resounding win.
Old But Yet One of the fittest 
Off the field, Kohli's commitment to fitness is worth noting. His dedication to maintaining peak physical condition sets a high standard for aspiring cricketers. His strict fitness regimen contributes to his agility and endurance on the field.
We could see that in the game against Pakistan, Kohli constantly pushed for two and kept the opposition fielders on their toes, even stealing singles with errors in the field.
With Virat at the crease, you need to ensure there is no room for error in the field and all the players are giving it their all; if not, you will be leaking runs to this guy.
Virat Kohli's latest heroics testify to his unparalleled skill, dedication, and passion for the game. The statistical data further solidifies his position as a cricketing icon. As he continues to rewrite records and inspire cricket enthusiasts worldwide, Kohli's legacy in the sport remains unmatched. His ability to perform consistently across formats and his leadership qualities make him a role model for aspiring cricketers and a source of pride for Indian cricket fans.
Visit ISM GLOBE to learn more about Jobs in Sports. ISM GLOBE is a Top Sports Management Institute in Mumbai. A sports management college with multiple certified courses after the 12th and provides degrees in sports, sports analytics, and sports marketing.
There are degrees equivalent to an MBA in Sports Management, such as PGPSM, an eleven-month post-graduation in Sports Management program. Study abroad, 6 Months of study in Spain and 6 Months in India to get your masters in Spain. There are multiple short-term Sports Management programs. All these are available at ISM GLOBE, Mumbai – the best place for a Career in Sports and Sports Management Degree.
ISM GLOBE provides Summer School for children above 14 who wish to take sports lessons professionally. Contact now admissions open and win a chance to get an education abroad at top foreign universities like Real Madrid School.