✍️  Divyansh Kumar
🗓️ May 6, 2023
The Future of Sports in India: Decathlon's Expansion and Partnership with ISM Globe
Decathlon is a global brand that has rapidly gained popularity in the Sports and Outdoor segment. The company's philosophy of "All sports for all people" reflects the vision of, Baron de Coubertin, who is also the founder of the modern Olympics. This is evident in the range of products offered by Decathlon, which cater to the needs of all individuals, regardless of their skill level or background. Making it a brand that truly embodies the spirit of inclusivity in the world of sports and outdoor equipment.
In 2009, Decathlon made its entry into the Indian market with the establishment of its franchise in Bengaluru. Becoming the pioneer in introducing a big-format niche retail chain in India. The brand soon expanded its footprint by opening stores in Mumbai, Hyderabad, and Chandigarh, and received an overwhelming response from customers.
With its customer-centric approach and a wide range of sports and outdoor equipment. Decathlon quickly gained popularity in India, becoming a go-to destination for sports enthusiasts of all levels. The brand's success was evident as it achieved breakeven in a short period.
Looking to build on its success in India. Decathlon has announced its plans to invest a whopping 700 Crores INR to expand its business further in the country. With this investment, the brand aims to strengthen its presence in the Indian market by opening new stores in various cities, enhancing its e-commerce capabilities, and investing in local manufacturing.
Decathlon's continued focus on providing high-quality, affordable sports and outdoor equipment. They are committed to empower local communities through sports. This makes it a brand to watch out for in the Indian market.
What's In Store for the Future?
In the next five years, the third-largest sportswear retailer in the world, following Adidas and Nike, is set to invest €100 million in the expansion of its retail, logistics, and manufacturing operations in the country. This significant investment highlights the brand's commitment to strengthening its presence in the market and delivering high-quality products and services to its customers.
Since its establishment in France in 1976, Decathlon has placed great importance on product development. A specialised team devoted to designing and creating new products while testing them under authentic circumstances. The company's in-house research and development culture is evident in the registration of approximately 40 patents annually, demonstrating their commitment to innovation.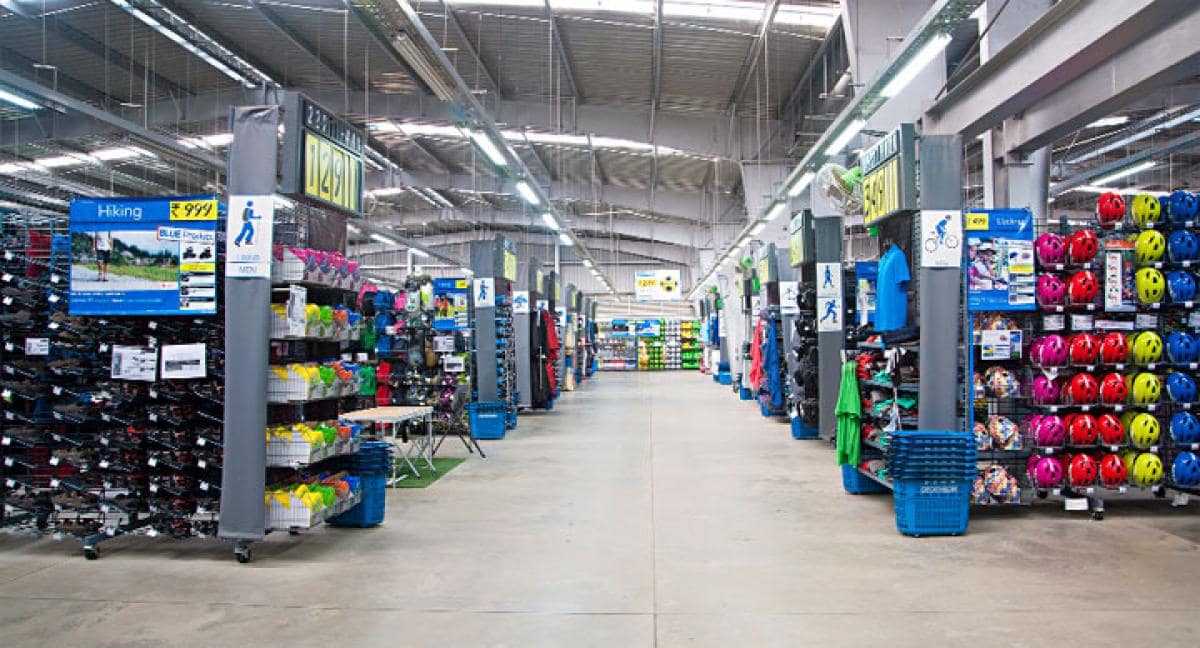 Decathlon stores are typically vast, spanning an area of at least 4000 square feet. This sets them apart from other sports stores that tend to be much smaller in size. The organisation has created job opportunities for sports enthusiasts in the country. They also contributed to the development of a sporting ecosystem.
With a focus on product quality, Decathlon offers 20 brands covering 70 different sports at affordable prices.
In India, people are limited in their entertainment options beyond movies, restaurants, and malls. But, Decathlon has the potential to provide an alternative weekend leisure activity. Allowing customers to engage in indoor sports within their expansive showrooms.
During our visit to Decathlon's headquarters, we had the opportunity to discuss the essential 21st-century skill sets required for positions in brand strategy, logistics and supply chain, and production and product development.
As a prominent global brand, Decathlon is a valuable partner. We strive to cultivate a strong relationship by supplying them with top-quality talent. Our Founder, Mr. Pratik Hinduja has Entered into a collaboration with Decathlon Sports India for further development of sports & sports education in India.
As someone who enjoys sports, I am excited about Decathlon's expansion plans in India. The brand's focus on inclusivity and affordability makes it accessible to people from all walks of life. Its vast showrooms provide an excellent opportunity for customers to engage in indoor sports activities.
Additionally, Decathlon's commitment to innovation and local community development is admirable. I believe that its continued investment in India will benefit the country's sporting ecosystem. I look forward to seeing how this partnership with ISM Globe will further the development of sports and sports education in India. Excited to see what the future holds for Decathlon in the country.
The Future of Sports is huge and the demand for jobs in sports continues to Increase. To know more about the Career in Sports visit ISM GLOBE, a sports management institute in the heart of Mumbai, Bandra.